March 31st, 2008
---
10:05 pm
I am so surprised that I am finding the time to post to this thing. It has truly been a long time. So a lot is going on. We won the election with Niki. It has been a few good months.

On Saturday I am moving to Washington, D.C. I am a bit nervous about the move, but excited about the change. I have never lived more than 45 minutes away from home and I am looking forward to getting out of the area and making a change and establishing myself and growing in a different way. I am so excited. I hope to keep you posted!

How are you?

January 9th, 2007
---
09:09 pm
I am officially a law student ... Orientation began last night --- but there orientation is just like classes ...

good by life ...

September 24th, 2006
---
11:46 am
I love my job and career - but I envy when my friends get engaged, buy a house, or make a paycheck of over 5,000 a week.

Okay, I don't envy the engagement part, but I do envy the other...

How can I do that?

HAHA!

February 1st, 2006
---
09:15 am - For you I will Confindence
Is everyone not falling in love with this song by Timmy Greiger?
http://www.myspace.com/teddygeiger

IT IS SO GOOD!


Alright Yaah
I'm wandering the streets in a world underneath it all
Nothing seems to be
Nothing tastes as sweet as what I can't have
Like you and the way that you're twisting your hair round your finger
Tonight I'm not afraid to tell you
What I feel about you

I'M GONNA MUSTER EVERY OUNCE OF CONFIDENCE I HAVE
AND CANNON BALL INTO THE WATER
I'M GONNA MUSTER EVER OUNCE OF CONFIDENCE I HAVE
FOR YOU I WILL FOR YOU I WILL

Forgive me if I st-stutter
From all of the clutter in my head
Cause I could fall asleep in those eyes
Like a waterbed
Do I seem familiar
I crossed you in hallways a thousand times
No more camofloge
I want to be exposed
And not be afraid to fall


I'M GONNA MUSTER EVER OUNCE OF CONFIDENCE I HAVE
AND CANNON BALL INTO THE WATER
I'M GONNA MUSTER EVER OUNCE OF CONFIDENCE I HAVE
FOR YOU I WILL
ALWAYS WANT WHAT YOU CAN'T HAVE
BUT I GOT TO TRY
I'M GONNA MUSTER EVER OUNCE OF CONFIDENCE I HAVE
FOR YOU I WILL, FOR YOU I WILL, FOR YOU I WILL,

For You

If I could dim the lights in the mall
And create a mood, Yaah I would
And shout out your name so it echoes in every room Yaah

That's what I'd do
That's what I'd do
To get through to you Yaah

I'M GONNA MUSTER EVER OUNCE OF CONFIDENCE I HAVE
AND CANNON BALL INTO THE WATER
I'M GONNA MUSTER EVER OUNCE OF CONFIDENCE I HAVE
FOR YOU I WILL
ALWAYS WANT WHAT YOU CAN'T HAVE
BUT I GOT TO TRY
I'M GONNA MUSTER EVER OUNCE OF CONFIDENCE I HAVE
FOR YOU I WILL, FOR YOU I WILL, FOR YOU I WILL,
For you I will

January 24th, 2006
---
11:01 pm - Welcome to family ...
Meet my new puppy ... yet to be named ...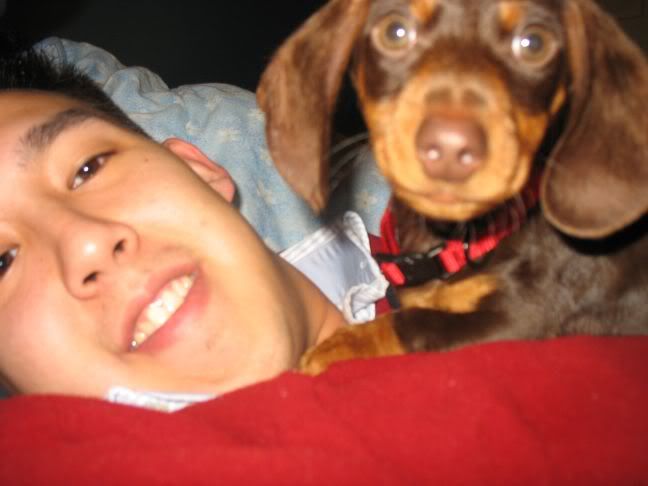 He is 3 months old, a daschund and very hyper ...

My family can not decide on a name. However, the toss ups are Taco, Frankfurter, Tabasco and I say Pierre.

My family (and extended family) has this strange complexity to name our dogs after foods, such as Adobo and Kiwi.

Ain't he cute ...

December 27th, 2005
---
06:29 pm
Folks, I got my wisdom teeth out today, all four.

Knock on wood, not in to much pain, not swollen, and I have already eaten 2 meals (had to catch up for not eating this morning). My family thinks that I am wierd because they were incapacitated for nearly 3 - 4 days. I am superman, what can I say.

I will do everything the doctor said though so I do not get dry sockets. EEEK!

I was thinking of going to the mall in a few but my dad won't let me leave, I will obliged to his request. HAHA, oh well. I hope that tommorow isn't to bad. But, when I did (hence the past tense) have my tongue pierced (x2) my tongue healed quickly. I was eating a cheeseburger normally within an hour.

Just send some messages and IM's my way. Belfort79 is my screenname.

Rambling now, must be the percasets.

October 3rd, 2004
---
02:58 am - Sorry ....
This is now a FRIENDS ONLY journal ...

You may comment to be added ...

July 22nd, 2004
---
12:00 am - Tired ... as usual!
It is now Midnight and I am pondering whether I want to finish my homework assignments or call it a night. I just can not decide, and it is not doing any good for me just sitting here going back and forth.

Tonite, I left my Egyptian History class early, I was really tired and falling asleep and got a headache. I could tell my professor was really pissed, but, hey, as I said before it is my education, I pay for it.

I need to figure this shit out with the sleeping thing, I ponder back and forth if I should take the medicine to help me sleep. I have had the prescription for nearly 5 months now, and have yet to take a pill. It is out of fear, fear that I will grow dependent on a pill. Knowing my luck it would be a placebo the doctor prescribed. LoL.

Work stunk so much today, I really hate working. No matter how much I hate it though I must work. When you are in $5,000 in debt there is no choice but to. I feel this complexity everyday when I want to buy, buy, buy or not work. Tommorow I will work again.

The internship is going well. I want to actually do some more work than what I am doing, is that crazy? I want to meet people, go to the State House and play games with the BIG WIGS. I love interning for a senator, but damn, call me greedy I want more. I am going to talk to them tommorow when I go in and ask them if there is more that I can do. I update the website everytime I go in, and no lie it takes me 15 minutes, then I call up the 30 or so people they put aside for me, and wouldn't you now it, I still have 2 hours or so left. I sit there twiddling my thumbs and attempt to play on the laptop that only has a web editor and My Documents. It gets old.

So, I went to the American Eagle Natick tonite to pick up my paycheck. I didn't want to go now just in case JC was there and he was. He goes, "Renee cried to me on how it took you 5 hours to do one wall on the floorset." First of it did not take me 5 hours. We worked on the floorset from 9-12 and I work on that wall from 10-12 that is 2 hours, to both of you bitches. This man was horrible to work for, and is so arrogant and selfish.

Okay, I am not going to do my homework tonite, it will be better to do it during the day. I have no motivation to do any work when there is no light out, wierd, I know, but it is a depressing thing to be sitting inside when there is darkness, for me atleast.

Tommorow I am looking forward to so much. I have to work (ain't looking forward to that), INTERNSHIP, School to give a speech to inner city children (SGA President-Rules my life sometimes, dinner with Meg and Dave, Desert with Meg Dave and Vanessa. Some of the best friends a person could ask for.

Oh great times, a-thank you!

Hands Down~
Tony
Current Mood:
ScArEd ~ See Below ...
Current Music: Christina Applegate on Leno going "MAAAAAAAYAAAAAAAH"

July 21st, 2004
---
01:03 am - Ivy, Poison Ivy!
Yes everyone, I indeed have poison ivy. I have for 2 weeks, and thought that I had controlled the spreading with alcohol (not the good type) but, low and behold it appeared again today. Let us just pray that it does not get as worse as when I was in 6th grade and it was all over my face, I looked like a strawberry or something.

I have been doing alot of thinking lately. I am complacent with my current life status. I can not wait though to go back to school, to experience freedom for the last time. I love being at home, yet I feel like I have this big brother thing looming over my every move.

So, my father saw my tragi piercings today. Not as bad of a reaction as I was anticpating. He goes, "What do those mean?" Apparently, in his day, (mind you it was 20 years ago) a piercing "meant something". Not today papa duke! Piercings are for looks mostly, and mine are HAWT!

American Eagle was okay tonite. I like working with Nikki, yet I hate working. LOL. I guess you kind of have to do the work thing though, particullary in order to recieve a pay check. Score!

Aight, I am off to bed, seeing that it is 1 AM and all and I have to get up at 7 to get ready for work. Tommorow is going to be a "fun"-filled day. 10-2 Work at my Uncles Store, 2:30-4:30 internship for Senator Resor, 5-6 travel to school in rush hour traffic 6:30 - 9:45 Egyptian History ... 10 - ? Socializing time.

All work and no friends makes me a sad person, haha!

Atleast tonite I hung out for a bit with Meghan, saw Christa and Rachel and drove around. Not bad, not bad at all!

Hands Down-
Tony


Hmmm, I am hungry!
Current Mood:
MUST ... GET ... SLEEP!!!
Current Music: Maroon 5 ~ She will be loved!

July 20th, 2004
---
04:19 pm - Internet ...
Oh no, I am back. None of this dial-up shit for me anymore to check stuff out on the internet. It is about time that my parents realized how much better this is. I have been downloading shit like woah since about 1 p.m.

So, I am still wicked tired from the trip to D.C. I should be all set by tommorow after I get enough sleep tonite. I am not looking forward to working tommorow at my Uncle's store. Thank god it is only till 2 p.m. then I have my internship and then I have class in the evening.

In about an hour and a half I have to go to work at American Eagle. It is sad that the vacation must come to an end, but I must make the money in order to pay off the bills. I don't have any money right now, therefore no current clothes from the new line to wear at work, what a shame!

Last night after class I hung out with Miss Maygen (Meghan) Hyde. We went to Wendys on Rt 9 in Westboro and ate in the back of my truck. It was fun just chilling out there with her, and she is one of the best friends I have.

I don't really have that much to write about right now, but I will probablly post when I get done with work tonite.

Hands Down~
Tony

Thanks to BFF I have another new song!
Current Mood:
I got Internet
Current Music: Murder on the Dance Floor - Sophie Bextor